InPost Mobile – a new deal on the courier market
While shopping online we may come across many surprises. Some can be very unpleasant, but fortunately there are some that are a little more pleasing to the eye. In the latter segment we can certainly include the new InPost application that will improve our experience of receiving the desired purchase.
InPost, or great UX
It is quite easy to visualize the concept of User Experience, although it is hard to explain what it really is. The definition of user experience here will depend mainly on who the user is and what the subject of the experience is at any given time. For good measure, everything is User Experience, but we're going to delve into a little bit of the inpost world today.
The postal communication king
As far as InPost is concerned, it stands out with its great communication. The company delights with its marketing message not only its current and future customers, but also the entire industry environment. It confirmed this by winning the most prestigious award in the world of business and advertising, the Effie. In addition, the company is doing very well in terms of publicity, boasting about the initiatives it supports, showing its achievements or the way it treats its employees. Looking at the design of their signature pages themselves, they are clear, expansive and intuitive. They do not suffer from over-saturation of messages, and the background of the page and the objects moving on it give them a three-dimensional impression, although we are only talking about the impression here, because we still see the standard 2D unfortunately.
Unfortunately? Of course, it would be interesting to see such a solution, but better good 2D than nonexistent or average 3D, isn't it?? InPost is also great at managing its distribution channels, including social media. LinkedIn confirms the brand's drunkenness, a sample of which we'll see below.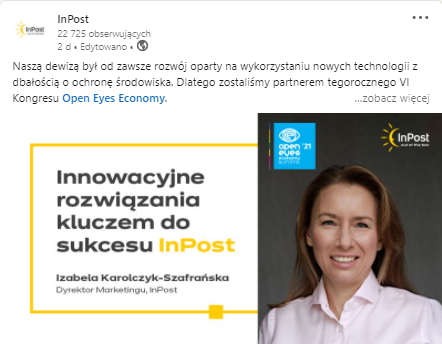 InPost owes its success also to the continuous implementation of modern solutions, and the parcel delivery application is unprecedentedly one of them.
InPost Mobile
The mobile application of the courier delicatessen, we could jokingly say, is a solution worth its weight in gold for all lazy or busy people. In fact, it's just a big convenience for all users. Saves a lot of time thanks to the functionalities it offers its customers. First of all it guarantees the possibility of quick registration in the administration panel of the application, but apart from that we can list a few other possibilities.
Ship packages without a label
The new solution allows you to send parcels without printing labels. What's more, you can now do it all the time, counted in days, weeks, years and millennia.
You open boxes remotely
Thanks to the remote box opening function you can collect your package without standing in line behind others. It is especially useful in times of forced social distance. The technology available from the application level is designed to ensure quick opening of the box.
You have everything in one place
All the information about our parcels is available on the InPost Mobile start-up panel, which will surely be useful for everyone. I'm sure you've been looking for that one message with the delivery code in your e-mail, let alone standing in the freezing cold with one percent battery and a horrible iPhone in your hand. Location of all orders in one place is quite personalized approach to the user, which we evaluate very positively. What more, you save time, because you do not have to add packages to the application yourself. InPost will update it automatically in our panel.
You are up to date
The obvious consequence of one package location is the ability to view them at any time. However, InPost Mobile also provides the possibility of sending notifications when the status of our parcel changes. So it seems that You do not have to log in to be up to date!
You pick up packages on the way
InPost machine will remind us that we have a parcel nearby when we walk past Paczkomomat®, which it will locate. However for this option to work we need to have location enabled on our device.
Easy identification of your packages
You can give each shipment any name, which makes it even easier to find the package you are interested in. InPost Mobile leaves room for creativity, or another way to save space in the main memory… of our brain.
You can track the parcels of your loved ones
If our loved ones do not have the time, opportunity or just want to use us, they will have the opportunity. All they have to do is send us the package number, and we will politely run for their shipment with a smile looking at the satisfaction of our mother or the other half. If the parcel is also a cash on delivery, we can also pay for it from the application level.
Can I extend the time of delivery in InPost Mobile application?
InPost points out that everyone's plans may change. So called random and unforeseen situations happen to everyone, and InPost Mobile application allows to manage such situation reducing thinking and stress because of missed parcel delivery. The new option costs customers 7.99 PLN and allows to extend the time of delivery by one day forward from the unlucky event.
The InPost Mobile app is available in stores: Google, Apple and Huawei.