Almost 1/3 of respondents buy over the Internet once a week or more often
The majority, or 60 percent., Internet consumers in Poland shop online several times a month, according to a new report by Polish firm Advox "How Poles Use Online Stores: E-shopping habits of Poles 2021". Nearly half of all online purchases spend between 101 and 300 PLN per month. The most frequently purchased product categories online are accessories and clothing, which were indicated by 62 percent of the respondents. respondents.
Currently, 60 percent of consumers shop online on a regular basis. Internet users, according to the Chamber of Electronic Economy. Polish eCommerce market is one of the fastest growing in Europe – its value at the beginning of 2021. The value of the Internet has exceeded 100 billion zlotys, and for the last three years there has been an increase of approx. 25 percent. of online stores per year. Today in Poland there are 51 thousand registered. Online stores, but as many as ¾ of them are in bad or very bad financial situation.
A common problem of Polish e-commerce is the assumption that setting up an online store, launching it and displaying goods is enough for success and effective sales – says Rafał Gadomski, CEO Advox Studio – a software house with headquarters in Poznan and branches in Europe, which has completed more than 120 online store projects – Meanwhile, the proper identification of target groups and adaptation of marketing activities to them, learning about the needs, interests and habits of consumers and understanding what encourages and discourages them to buy in a particular store, is absolutely key to running this type of business. So we decided to check how and what Poles buy online in 2021. We asked them about.in. about how often they shop online, how much they spend in this channel and which products they choose most often.
1/3 of online consumers buy online once a week or more
From the Advox report "E-shopping habits of Poles 2021" results that already 28 percent., and so Almost ⅓ of respondents buy online once a week or more – nearly 3 percent. even daily. The majority, almost 60 percent, spend more than 500 zł a month on shoes., do it once or several times a month. As many as 44 percent. admits that the pandemic had a significant impact on the increased frequency of their online shopping. Of those who noticed this correlation, 61 percent. on a scale from 0 to 10, where 0 meant that this frequency has hardly increased and 10 that they only shop online anymore, indicated values of 6 or higher. Nearly half of online shoppers on average spend between 101 and 300 PLN per month. Over ⅕ spend between 301 and 500 PLN per month, and less than 20 percent. between PLN 51 and 100. Less than 10 percent of respondents. spend more than PLN 500 a month.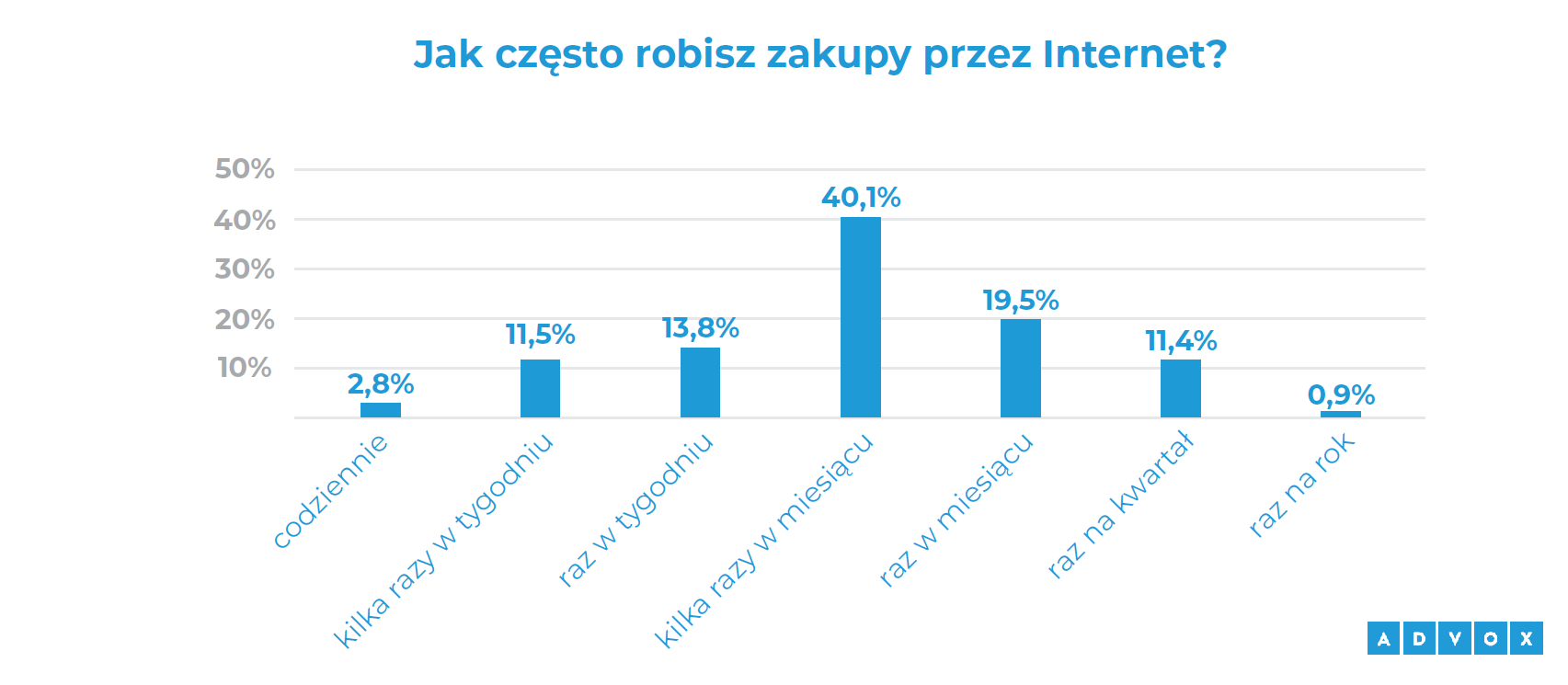 Mobile shopping applications in Poland are not as popular as in the world
The most popular devices used by Poles to shop online are still a desktop or laptop, indicated by more than half of the respondents. More than 1/4 use the browser on a smartphone or tablet, and almost ⅕ use mobile applications and shopping platforms. More and more people, especially young people, value the convenience of shopping anywhere, anytime Mobile commerce, also known as mCommerce, is an extremely important aspect of pro-customer activities today. Mobile shopping apps, which are only growing in popularity in Poland, are already used by 70% of the population. smartphone users in the world – comments Rafał Gadomski, CEO Advox Studio.
Most often we buy clothes online, least often computer software
Poles are already buying basically everything online, even insurance, which was indicated by 20 percent. PLN 500 per month, and cars and car parts, indicated by 24% of respondents. Respondents. Clothing and accessories have remained the most frequently purchased online product categories for years, indicated in the Advox report by 62 percent. of respondents. In second place was footwear – 56 percent. responses, and in third place cosmetics and perfumes – 49 percent. answers. The least frequently purchased products online are computer software (13%). The number of online shoppers who spend more than 10% of their income online is growing (14% of responses), as well as building and finishing materials (14%).). Already every 5. Online consumers do their grocery shopping this way. In total, as many as 80 percent. Internet consumers add their product reviews to online store websites after shopping. Many stores do not want to give customers the opportunity to review their products, fearing negative feedback, but this is a mistake. The ability to read reviews from ordinary users increases customer trust in sellers – adds Rafał Gadomski, CEO Advox Studio.
Report "E-shopping habits of Poles 2021" based on the results of a survey conducted using the CAWI method by a research company between 13-20 September 2021 on a representative group of 1000 people.