What IT jobs really look like in the eyes of specialists?
IT recruitment agency, Next Technology Professionals, prepared by report on the IT labor market in Poland. Thanks to the analysis of 112 000 job offers and gathering the opinions of 852 specialists, we were able to formulate conclusions allowing us to look at the actual salaries, the most popular technologies and the candidates' preferences regarding participation in the recruitment processes. What were the key findings?
More than half of IT professionals (53%) are satisfied with their salary
Experts are most satisfied (79%) and Juniors are least satisfied (52%). Satisfaction with earnings was also indicated by Mids (60%) and Seniors (69%). Despite overall satisfaction with their salaries, IT professionals are open to the possibility of changing jobs.
As many as 71% of IT Professionals are open to changing jobs
Despite overall satisfaction with their compensation, an overwhelming majority of IT professionals (71%) are open to changing jobs in the near term, and nearly half are willing to do so if they receive an interesting offer.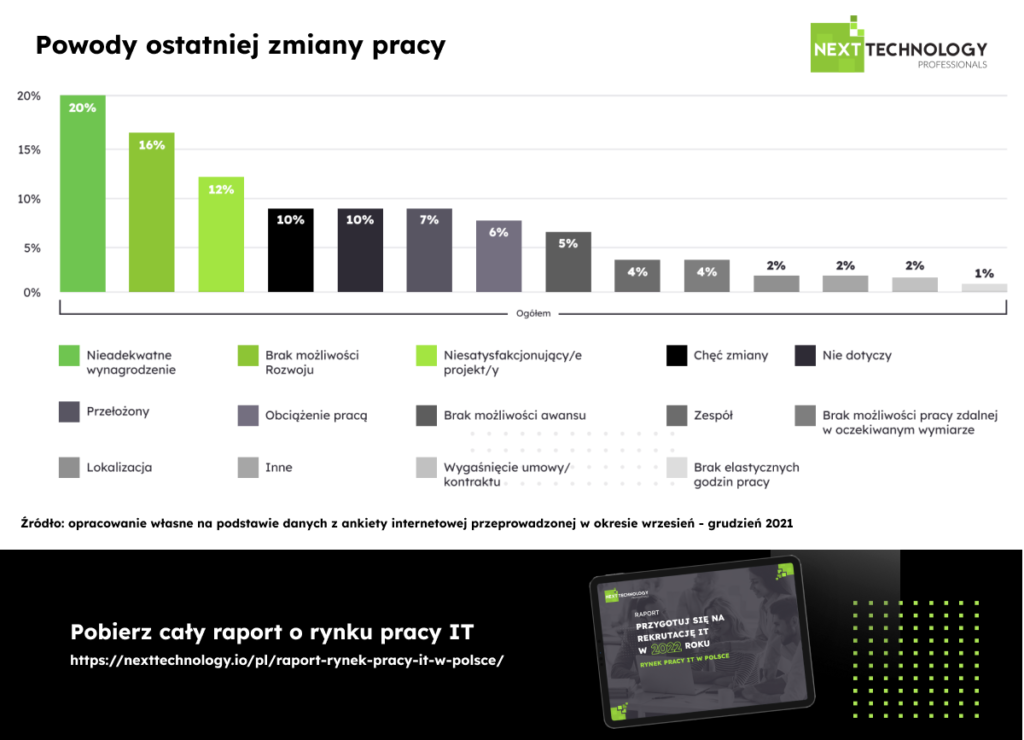 According to them, the willingness to make such a decision is mainly caused by inadequate salary (20%), lack of development opportunities (16%) and unsatisfying projects (12%).
Working completely remotely was not as easily attainable in 2021
The issue of being able to work completely remotely is important to IT professionals – 63% of respondents cited this work model as the most important benefit. Analyzing the results of the survey, we can see that as many as 48% of respondents want to work completely remotely, and 50% want to work hybrid (the most desired model is 3 days of remote work and 2 days of work from the office). Only 2% of all respondents express a desire to work completely stationary.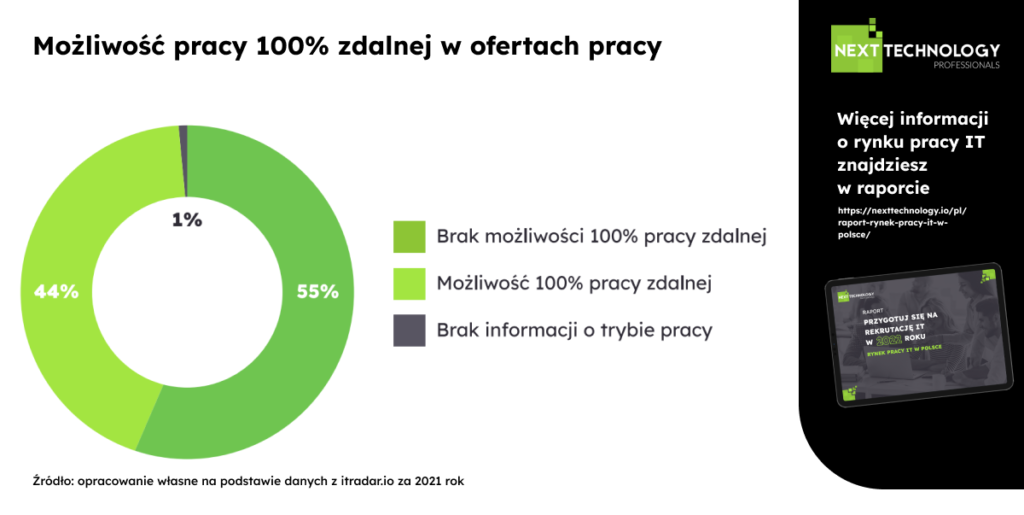 It is noteworthy that only 44% of the job offers included the possibility to work completely remotely. This leads to the conclusion that the issue of choosing a completely remote mode of work option, despite the pandemic home office trend, was not as prevalent as one might expect.
It is worth noting that 100% remote work was also offered by companies outside of Poland. On job portals in 2021 there were 6.5 thousand. offers from abroad. Polish IT specialists were sought mainly by companies from the United States (19%), Germany (15%), Hungary (13%) and the United Kingdom (11%).
The most sought-after IT professionals and their salaries
The most sought-after IT professionals include: Quality Assurance (QA) Engineer, Frontend Developer, Fullstack Developer, DevOps Engineer, Mobile Developer, and Data Scientist. In each of these groups, the highest number of offers was directed to Mid. Their average minimum and maximum salary ranges are shown in the table below. Salaries for professionals at other experience levels are reported in report.
Earn the most can IT professionals working with Google Cloud Platform, Kubernates or Microservices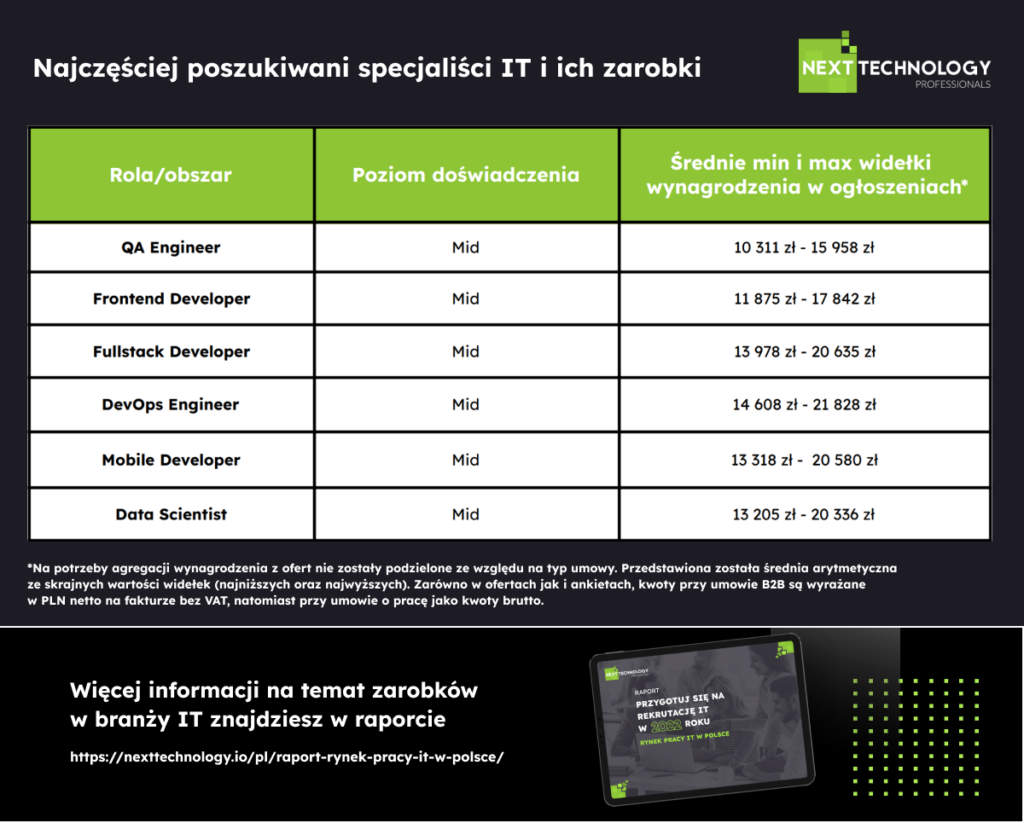 According to the data collected from the advertisements, the highest salaries could be expected by people who work with Kubernetes (maximum salary range is 20 954 PLN), Google Cloud Platform (maximum salary range is 21 325 PLN), Microservices (maximum salary range is 21 923 PLN). In addition, the three programming languages most frequently appearing in advertisements are Java (20%), JavaScript (20%) and Python (18%).
An IT specialist employed on a B2B basis expects a pay rise when changing jobs by 20% on average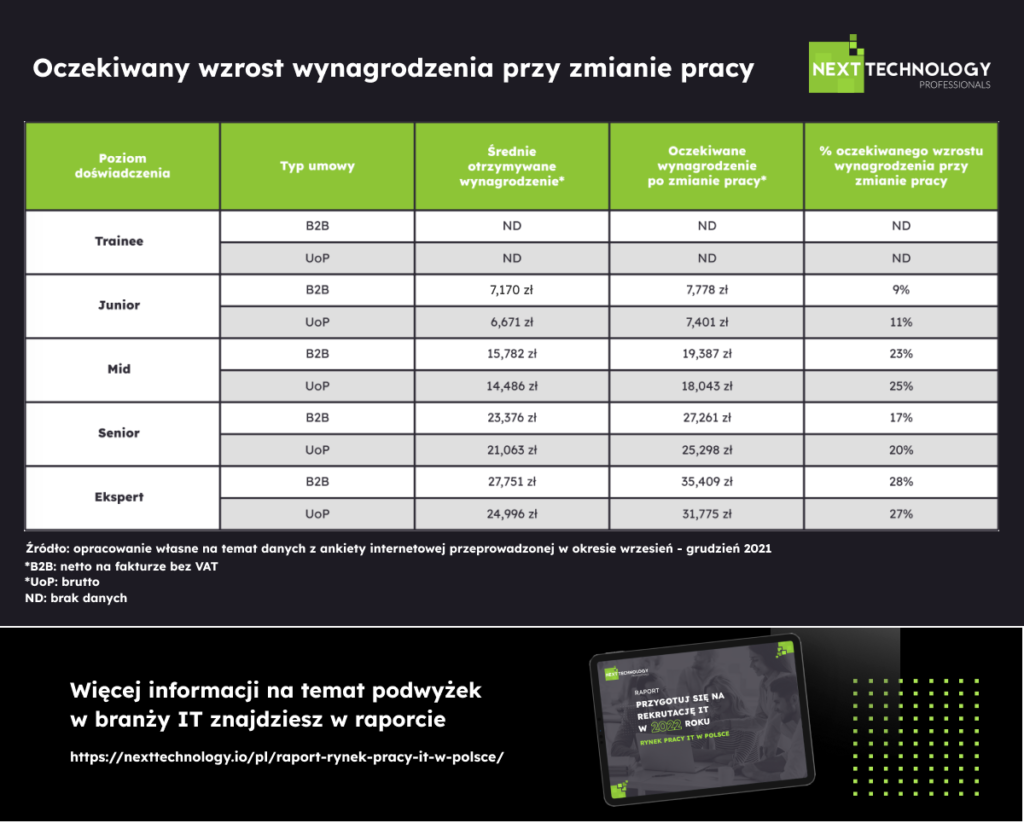 Experts working on B2B have the highest expectation of salary increase when changing jobs (28%). Additionally, the value of the expected bonus on an annual salary scale is for Mid – 24%, for Senior – 21%, for Expert – 18%, while for Junior – 14%.
Seniors and Experts receive higher salaries than advertised
Regardless of the type of contract, Seniors and Experts receive higher salaries than advertised (both for B2B and UoP). The situation is similar in the case of Midwives employed on a B2B basis. However, the salary offered to Juniors is consistent with the one they receive, regardless of the type of contract. In the same situation are people employed on the basis of an employment contract, whose level of experience is Mid.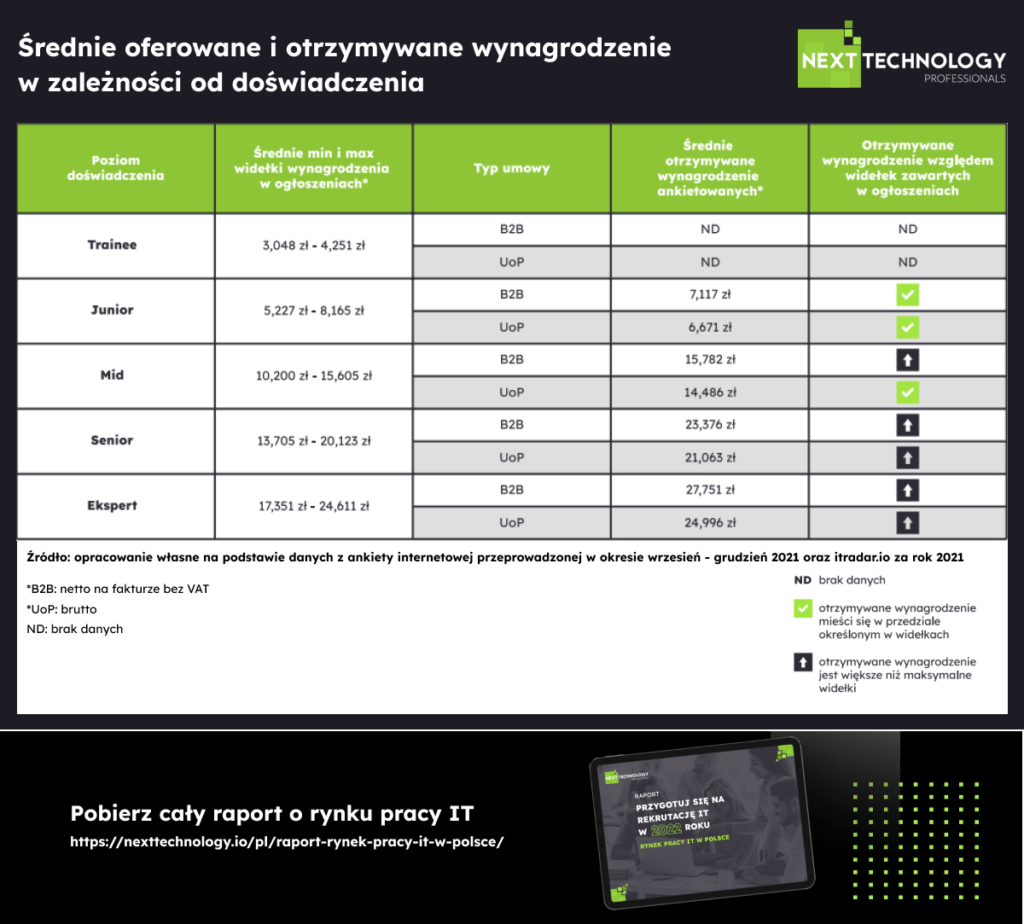 77% of respondents indicate that the recruitment process should consist of a maximum of 2 stages
Analyzing the data collected in the report, one can come to a conclusion that many employers now put emphasis on shortening the recruitment process. 46% of recruitment processes in which the respondents participated were completed within 2 weeks.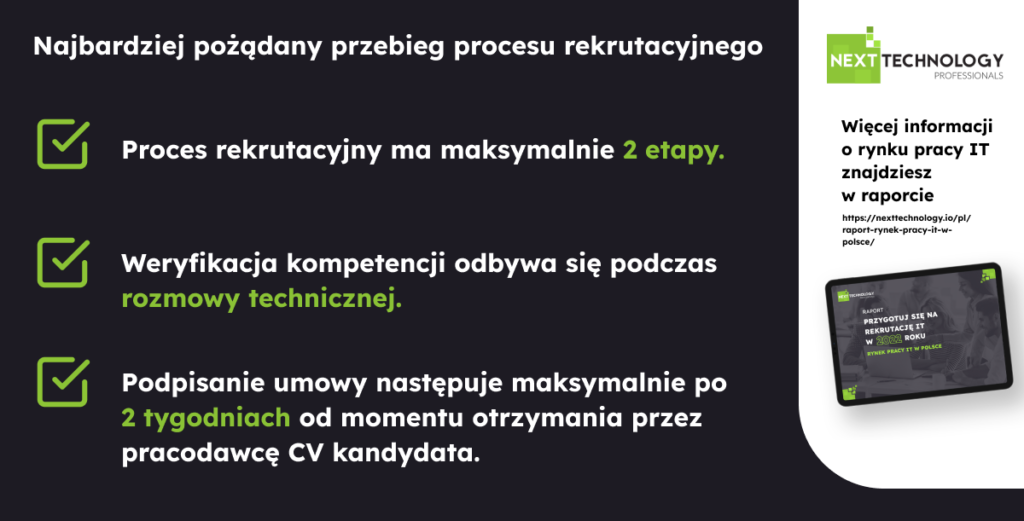 Expert Comment: "I agree with this expectation. 2 stages of recruitment should be enough to make a decision. The number of stages, combined with the short duration of the process, can be a strong advantage in competition for the same employee. The efficiency of the recruitment process is the first opportunity to practically prove to the candidate our values and culture that we so often boast about." – Damian Murawski (BitBag Founder & CTO)
Personal tests, pair programming and code samples are the least preferred methods of competence verification
According to IT professionals, the most preferred form of competence verification is a technical interview (29%), a remote task (17%), or an HR/business interview (15%).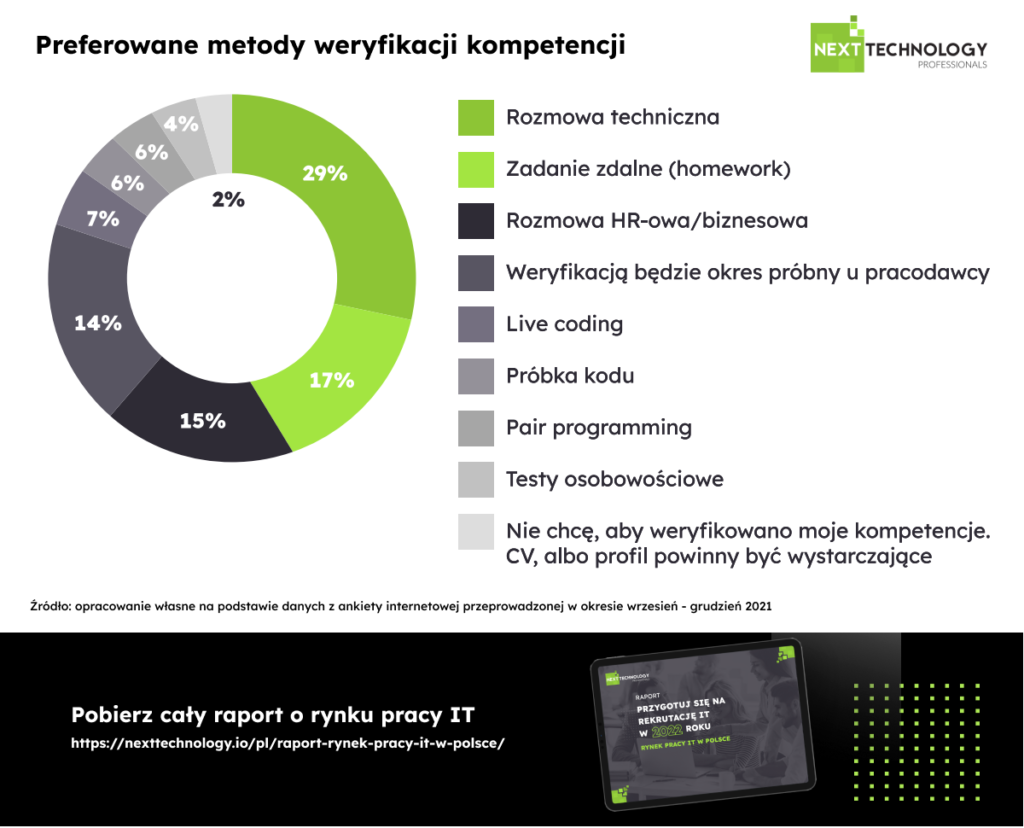 Remote working, medical packages and work-life balance are most important in addition to earnings
As the most preferred benefits, the possibility of remote working (63%), flexible working hours (52%), a medical package (34%) and extra vacation days (31%) were most often mentioned. On a high place were also professional training (28%), which again emphasizes how important for IT professionals is the development and deepening of knowledge gained so far.